I debated where to publish this post, since it isn't exactly a recipe. But, it is food and it is a delicious side dish to have when you are having Mexican for dinner.
My family loves Mexican food. Our town used to have a restaurant called Chi-Chi's that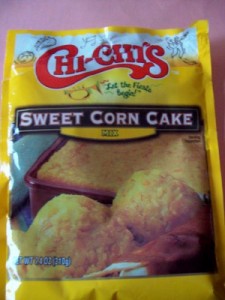 we would take our daughter to quite frequently. It was a fun, family restaurant. They used to serve a scoop of this sweet corn cake as a side with their meals and I just remember that my family really liked it. The restaurant is no longer there, but I have seen their products like salsa, chips, and taco mix in the grocery store. Well just the other day I went shopping and discovered that they have a mix for their sweet corn cake. I don't know if I had just not noticed it before, or if it was a new item the store was carrying. Either way, I decided to try it.
I wanted to tell you about it because I made it and we really enjoyed it. I know there are some really good homemade recipes for corn cake and corn soufflé type dishes, but this was just so quick and easy and was a great side dish with the soft shell taco dinner I was making.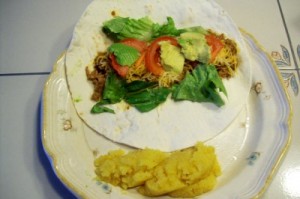 All you need to add to the package mix is some melted butter and a can of cream style corn, and then bake. It's simple, but really tasty. Next time you are serving up a Mexican meal, try this as a side dish. I think you will really like it. Our family did.