This is a very simple recipe.  However, it is one of my most requested recipes and one of my most requested dishes.  When I ask family over for lunch, they say, "Are you going to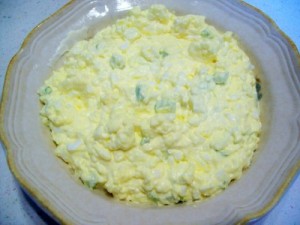 make some of your egg salad?"  And, my family says I make the best egg salad.  That always surprises me because it is not like I use some secret ingredient to make it special.   However, I will say that the mayo is probably the key to making this so great tasting.  The only mayonnaise to use for this recipe is Hellmann's Real Mayonnaise.  There is no substitute.
My family likes to eat our egg salad on these buttercrust buns I buy from a local grocery store.  Egg salad also tastes great on white bread or croissants.  If you would like to cut out the bread, serve it rolled in a nice crisp romaine lettuce leaf.  Anyway you serve it, it will be a hit.
You will need:
18 eggs, hard boiled and peeled
1 ½ cups of Hellmann's Real Mayonnaise
1 ½ stalks of celery, finely chopped
¼ cup yellow onion, finely chopped
Place the peeled hard boiled eggs in a large bowl.  Using a fork and knife, chop the eggs into small pieces.
Add the chopped celery and chopped onion.
Add the Hellmann's and stir well.
Refrigerate for at least one hour.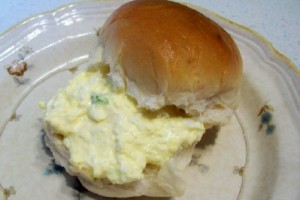 Enjoy!
(Note:  I always refrigerate my mayonnaise before adding it – even if it is an unopened jar.)