I am posting this in both "Other" and "Main Dishes". Yet another meal we have eaten at both breakfast and dinner. At first I wasn't sure I would even call this a recipe, but it does have ingredients (only 3 though) and instructions for cooking, so I guess it's a recipe. I wanted to share it, because it is really easy to make, my family really likes it, and I thought if you were doing either a breakfast or brunch for Mother's Day (which by the way is this coming Sunday) this would be a nice dish to make.
Sometimes we eat this with either cinnamon rolls or a muffin as a side dish. And,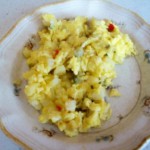 sometimes I will put the egg mixture in a flour tortilla with some shredded cheddar cheese or shredded Mexican blend cheese and have a breakfast burrito. Either way is good and either way is extremely easy and quick to make.
If you make this for Mother's Day, you can make it in a big skillet and maybe consider making my waffles recipe that is also listed in "Other" and "Main Dishes". Add a nice big bowl of fresh fruit, some coffee, some juice, and you have a nice Mother's Day Breakfast.
For those of you who don't know, Potatoes O'Brien contains potatoes (of course), onion, and red and green bell pepper. When I make this for my family of three, I use 9 eggs and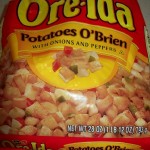 about 1/3 or so of the bag of potatoes. You will need to adjust this to the size of your family or number of guests. I just tried 3 eggs per person and it seemed to work out ok. I think this will soon become one of your most requested breakfast dishes. I use Ore Ida's Potatoes O'Brien, which can be found in the frozen section of your grocery store.
INGREDIENTS
Olive Oil
Potatoes O'Brien (Ore Ida brand)
Eggs, scrambled
Basically you just follow the instructions for cooking the Potatoes, as listed on the package. You heat the olive oil in a skillet and cook as designated by the chart on the package.
While that is cooking, scramble the desired amount of eggs in a bowl.
When the potatoes are just about cooked, add the eggs and cook.
Serve and enjoy! (I told you this was simple.)