My family loves tomato bread. I often make it as an appetizer when we have company, and sometimes as a side dish just for us. If you have been reading my recipe collection thus far, I am sure you can tell that I like to make things that are "quick and easy". This recipe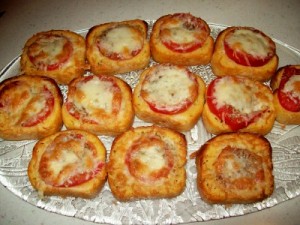 falls into that category – quick and easy, and very delicious.
To start with, I buy Cole's Garlic Toast. This can be found in your grocer's freezer section. It's a loaf of garlic bread that is pre-cut into 12 toast size slices. This is my family's favorite garlic bread. We have tried other brands, but we like Cole's the best. What's nice about it is that you can take out as many slices as you like. For company I use the whole package – for us, maybe I'll just use half a package – when it's just me and I get a craving, maybe I just pull out 2 slices. It's always nice to have a package on hand.
You will need:
Cole's Garlic Toast
Fresh Sliced Tomatoes
Dried Oregano Leaves
Shredded Mozzarella or Shredded Italian Style 4 Cheese Blend (I have used both)
Follow the directions on the Garlic Toast package – baking the toast on one side.
Take the toast out and flip it over.
Top it with one slice of tomato.
Sprinkle it with some oregano.
Top it with cheese.
Bake it until the cheese is melted.
Oh so good! Enjoy!