This pasta recipe is oh so good. It is my husband's favorite pasta dish. I know sometimes those of you who plant vegetable gardens often get an abundance of zucchini. Keep this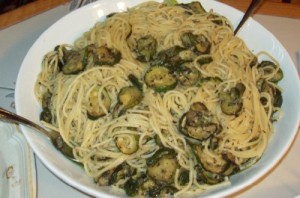 recipe on hand. It will be a good one to try with all those fresh zucchini you pick.
YOU WILL NEED
6 medium zucchini
Vegetable oil (for frying the zucchini)
3 cloves of garlic, minced
Garlic salt
3 TBSP Dried Basil Leaves
¾ cup Olive Oil
1 lb. pkg. spaghetti (I use Barilla Pasta)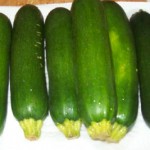 Wash the zucchini.
On a cutting board, cut off both ends of the zucchini and slice as shown in the picture below.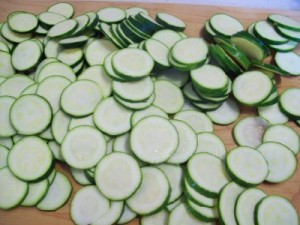 I use a large skillet to fry the zucchini and set the temperature to 350 F. (You could also fry these in a large frying pan.) Pour vegetable oil in the skillet, enough just to cover the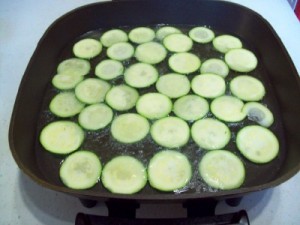 entire bottom of the pan. Fry the zucchini until tender, turning them half way through cooking. Place the cooked zucchini in a large bowl. (It will take several batches to fry all 6 zucchini.)
Once all the zucchini is cooked and in the large bowl, add the 3 cloves of minced garlic, the basil leaves, and the olive oil. Sprinkle generously with garlic salt and mix. Leave zucchini mixture on counter while pasta is cooking.
Cook the spaghetti as directed on the package – cook "Al Dente". Just before the pasta is fully cooked, remove 1 ¼ cup of the cooking liquid and add it to the zucchini mixture.
Drain the pasta. Add the drained pasta to the zucchini mixture and mix thoroughly.
Serve the pasta and Enjoy!
I like to top my pasta with grated cheese. Fresh basil is also a nice additional topping.