Aren't dogs awesome? They're loyal, strong, smart, adorable, and much more. I love my dog! I am so happy she is part of my family.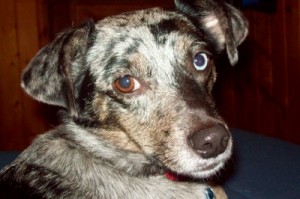 How I Got Blue –
I always wanted a dog, ever since I can remember. Before I was born, my mom and dad had a black lab named Webster. They always talked about how great of a dog he was. Ever since they said how great he was, I said I wanted a black lab. Now, as you can see from the picture, Blue isn't a black lab, but I'd rather have Blue than any other dog.
Back to the story – One Halloween, I was going trick-or-treating with my 2 friends. When I came home from school with them, my dad had a little puppy about four months old with him. At first I thought it was the firehouse dog that my dad had told me about, and that I had been dying to see. But, when he told me she was mine, I freaked and so did my friends. I was so excited. The funny thing was that my Halloween costume was a dog.
The first thing my friends and I did was look at how beautiful she was and how unique she was, with one brown eye and one blue eye. Then, we tried to think of names for her. My one friend suggested Sparky. My dad said they called her Blue at the shelter he got her from, because of her blue eye. "Blue", I thought, "Interesting, unique (which would fit her), cute. . . That's it! I like it; I'll call her Blue!" "I love it!" I said. So, that's how Blue got her name, and how I got Blue.
Ever since then, Blue has been a great joy to our family. She is so cute in everything that she does. Sometimes in the morning when my mom takes her downstairs to let her outside, she "herds" her. She scrapes her paw against the back of my mom's heels to kind of lead her. Blue is an Australian Cattle Dog mix, so it's in her nature to herd. That's what she does with our family. She's also very considerate. At night, she starts out sleeping with me, then, at about midnight, she goes and sleeps with my mom and dad. She makes sure we all get enough cuddle time. Almost every morning I wake up to a slobbery wet kiss from Blue.
I'm so glad that Blue joined our family. I just love her so much.
Thank you for reading my article. You can look forward to more cute stories about Blue, and maybe even a short video. Be sure to visit Kids Corner again soon.
Bye for now!