Recently, I went grocery shopping to buy the fixings for tacos, my dinner plan for the evening. My daughter and I like flour tortillas, and I usually just buy these because we use them for so many other dishes. My husband prefers corn tortillas for tacos though, so I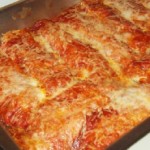 decided to pick up a package of corn for him. When I went to check the expiration date on the back of the package (I'm kind of a freak about expiration dates), I noticed a tempting enchilada recipe. It called for spinach and cheese. It sounded good and since I needed another opportunity to get some veggies in our diet, I thought I would try it. I'm very glad I did. It is really good, and really easy (and cheesy!).
Listed below is my version of the recipe from the Azteca Corn Tortilla package.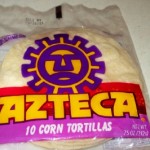 I made a few adjustments, to suit my family's tastes. Also, I often use fresh spinach (about 8-9 large handfuls, torn) instead of frozen spinach.
This dish is very good and very simple to make. My family requests it often. I know you will love it!
INGREDIENTS
2 garlic cloves, minced
4 TBSP olive oil
10 oz. pkg. frozen chopped spinach, thawed and drained (or 8-9 large handfuls torn fresh spinach)
1 ½ cups ricotta cheese
½ cup sour cream
2 cups (8oz.) shredded Monterey jack cheese
10 Azteca Corn Tortillas (in the refrigerated section of your grocery store)
10 oz. can mild enchilada sauce
Pre-heat oven to 375 degrees F. In a saucepan, sauté the garlic and spinach in olive oil for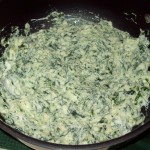 3-4 minutes, (slightly longer if using fresh spinach). Stir occasionally. Remove from heat. Stir in the ricotta cheese, sour cream, and 1 cup of shredded cheese.
Warm the tortillas as directed on the package.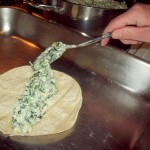 Spoon approx. ¼ cup filling down the center of each tortilla and roll up.
Place seam side down in a 13 x 9 baking dish sprayed with cooking spray. Top with enchilada sauce and the remaining cheese.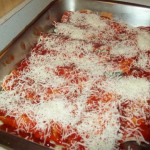 Bake for 15 – 20 minutes, until bubbly.  Enjoy!