Yummy! Cupcakes! Cupcakes seem to be the new craze, and I know you will be crazy about these cupcakes. This is another recipe I got from my Aunt Cindie. I have a lot of her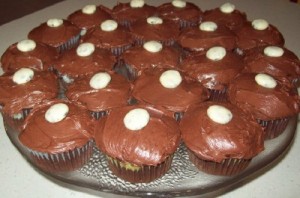 recipes, because she gave me a recipe box filled with some of her best recipes, as one of my wedding shower gifts. That was one of my favorite gifts. If someone in your family is getting married, you should think about giving that as a gift. It is a keepsake – a useful keepsake. I am still using mine, 26 years later.
Anyway, back to the cupcakes. These cupcakes have a delicious surprise filling of chocolate chips and cream cheese. I use a box mix and a tub of store bought frosting to make it easy. If you have a favorite "made from scratch" recipe for cupcake batter and frosting, you can use that and just add the surprise filling.
For the cupcakes I made this weekend, I just added one of those new Hershey's Drops – this one was the Cookies n' Cream drop. You could add any decoration or even shave some white chocolate on top to add appeal to your cupcake.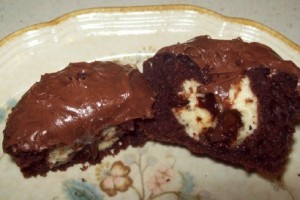 I am sure once you take one bite of these, you will be hooked.
INGREDIENTS
1 box Super Moist Chocolate Cake Mix (usually requires eggs, oil, & water)
1 tub Creamy Chocolate Frosting
Filling
1 egg
1 pkg. 8 oz. cream cheese softened
¼ cup sugar
1 tsp. vanilla
1 cup semi-sweet morsels
Follow the instructions on the cake mix to make the batter.
Blend all the ingredients for the filling in a medium bowl.
Line cupcake pan with paper cupcake liners and spoon cake batter in each cup till it is half full.
Place one tablespoon of the filling mixture in each cupcake.
Bake as directed on the cake mix instructions for cupcakes.
Cool completely and then frost and decorate.
Enjoy!