YUM! This is one of my family's favorites. I make this often, especially if we have company for dinner or friends over for pizza. Once you try these, you won't want to order them out. They are easy to make and very delicious.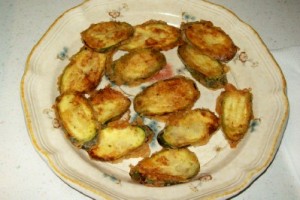 These are wonderful hot (I am sure you will be sampling some as you make them.); great at room temperature, and we even eat the leftovers cold, right out of the fridge.
One thing I have found about sharing my recipes with you is that it is sometimes hard for me to quantify how much of a certain ingredient I use. I cook a lot by "a pinch of this", "a sprinkle of that" – just by looking, guessing, tasting, and adjusting. In most cases, I have been able to quantify the amounts you will need in my recipes. However, this is one of those recipes, where an exact amount really isn't easy to quantify. But please don't get nervous; please don't shy away from this one. You will miss out on a great recipe if you do. This is not complicated. I will take you through this step by step.
INGREDIENTS
4 or more medium zucchini
2 or more eggs, beaten
Flour
Garlic salt
Vegetable oil
Wash the zucchini. On a cutting board, cut off both ends of the zucchini. Then, starting in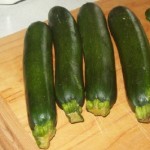 the middle of the zucchini, cut the zucchini on an angle – approx. ¼ inch slices.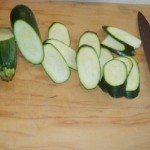 In a medium bowl, beat two eggs. (Depending on how many zucchini you use, you may need additional eggs.)
On a large flat plate, pour about 1 ½ cups of flour and use a fork to spread the flour evenly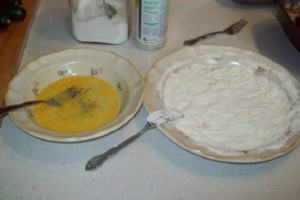 over the face of the plate. Then, sprinkle the garlic salt over the flour; shake it so it covers all the flour. Use the fork to mix the flour and garlic salt, and then smooth it again over the face of the plate. (This is the part I can't quantify. Try it this way. Make a few zucchini and adjust the flour and garlic salt mixture to your taste. If you find it too salty, add more flour. If not salty enough, add more garlic salt.) Depending on how many zucchini you make, you may have to make up more of this flour mixture.
I use a large skillet to fry the zucchini and set the temperature to 350 F. (You could also fry these in a large frying pan.) Pour vegetable oil in the skillet, enough to cover the entire bottom of the pan. You may have to add more oil as you cook additional batches.
I assemble these items on my countertop in this order: zucchini, bowl with beaten eggs, plate with flour mixture, skillet with heated oil. Then, I have a plate lined with paper towels at the end. Basically, you work like an assembly line. Dip the zucchini in the egg, then coat both sides in the flour mixture, then fry it in the oil (both sides need to cook till golden brown, so be sure to flip the zucchini), then place the cooked zucchini on the paper towel lined plate (this helps soak up any extra oil).
NOTE: I use one fork in the egg mixture, one fork to press the flour mixture on the zucchini, and a separate fork for the frying zucchini. Yeah I know, 3 forks, 3 plates, maybe a little more clean up than you'd like, but definitely worth it.
That's it. It's very simple, but oh so very good. I guarantee you will love this. Enjoy!
Oh, one more thing, remember to remove the paper towels that the zucchini are draining on, especially when serving company.