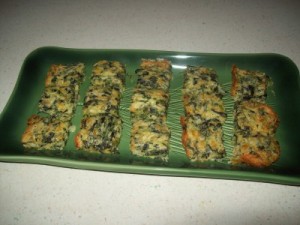 Here's a quick and easy recipe for a very tasty appetizer. My sister-in-law made this for Easter and it was really good. This would be a nice appetizer to serve for Mother's Day, which is right around the corner. It was a hit with this mom, and I'm sure you will like it too.
INGREDIENTS
1 cup flour
1 teaspoon salt
1 teaspoon baking powder
2 eggs, beaten
1 stick butter, melted
1 cup milk
8 oz. package of shredded cheddar cheese
½ cup chopped onions
1 package frozen chopped spinach (defrost and drain well)
Garlic salt
Stir first 3 ingredients together. Mix next 3 ingredients and add to flour mixture. Add last 3 ingredients to mixture and shake a little garlic salt into the mix. Stir well by hand.
Spread into a greased 9 x 13 pan and bake for 30 minutes at 350. Cut into squares and serve. Enjoy!