Hello Kid's Corner Readers.  My name is Elizabeth.  I'm a fifth grade girl.  I'm an only child (unless you count my dog), and I love to. . . . play soccer, dance, play the piano, draw, write, and spend time with my family.  I'm glad you stopped to visit; this is a really cool site, so keep reading.
Let's say you're at school and your teacher says you have to read 500 pages by the end of the quarter.  Well, you either can say, "How bad of a grade can I get if I don't read all the pages", or you can look at my recommendations for really cool and exciting books.  (I'd go with the second option!)
REALLY COOL AND EXCITING BOOKS:
SAVING ZASHA by Randi Barrow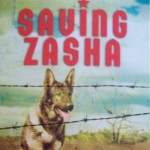 Reasons why you should read this awesome book:
1)  Because I said so.  (Just kidding!)
2)  Because Saving Zasha is an exciting story that reminds us to never give up.
It takes place in Russia, just after World War II.  The journey begins when the main character, Mikhail, finds a dying man and his dog in a forest.  He brings the man and his dog home to his mother, brother, and sister, where they try to help keep the man alive, but fail.  The man's dog is now left with the family.  His dog was a German Shepherd.  After the war, it was very dangerous to have a German dog.  If anyone found out, there would be serious consequences and the dog would be killed.  Mikhail and his family have to try to keep the dog, which the man called Zasha, a secret.  It isn't easy though.  There are dog thieves, and a nosy girl named Katia who is determined to find out what they're hiding.  A man named Dimitri wants to include Zasha in his experiment in breeding a new Russian dog.  Who should they trust?  Will they be able to keep this dog a secret, or will someone discover Zasha?  There's only one way to find out . . . .READ THE BOOK!
I hope you enjoy your reading.  Look for more recommendations every week.
Thanks,  Elizabeth