This is a really tasty dish and very easy to make.  My friend Kristie submitted it for our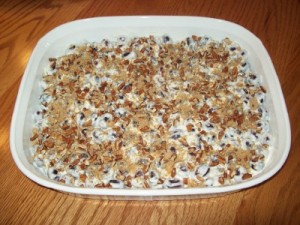 school cookbook.  When I first read the ingredients, I skipped over the recipe.  Then a friend made it and I got to try it.  It is really good and is now a family favorite.  I was requested to make it for Easter dinner, and I make it for most family parties.  Think about serving this for your Mother's Day get together.  I know it will be a hit with your family.
INGREDIENTS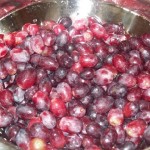 3 to 4 lbs. red grapes
8 oz. cream cheese, softened
8 oz. sour cream
1 tsp. vanilla
½ cup sugar
¾ cup finely chopped pecans
¼ cup brown sugar
Mix cream cheese, sour cream, vanilla and sugar in a large bowl.  Fold in grapes. Pour into a 9 x 13 inch pan.  Stir together pecans and brown sugar and sprinkle on top.  Refrigerate for at least 2 hours before serving.  Enjoy!