This recipe is for the Best Ever Chocolate Chip Cookies. Yet another recipe I got from my Aunt Cindie. You probably can tell from the ingredients that these do not fit in the healthy, low calorie category. However, they do contain both oatmeal and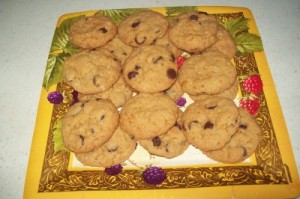 cornflakes. So, if I happen to eat five or six of these in the morning, and my husband asks me what I had for breakfast, I don't really consider it a lie if I tell him I had cereal.
Anyway, these are my family's favorite chocolate chip cookies. The recipe makes a lot, a real lot. At least five dozen – I say at least, because I do get that amount from the recipe, even though I sample a few from every batch that comes off the cookie sheet. Since this recipe makes so many cookies, it is nice to make for a big party, a bake sale, or when you need some homemade gifts. I gave these to the teachers last year during teacher appreciation week, and they just loved them. I know these will be a hit with whoever you make them for.
INGREDIENTS
2 sticks butter, softened
1 cup sugar
1 cup brown sugar
1 egg
2 tsp. vanilla
3 ½ cups flour
3 tsp. baking soda
½ tsp. salt
1 cup vegetable oil
1 cup cornflakes, slightly crushed
1 cup oatmeal
12 oz. semi-sweet chocolate chips
Preheat oven to 350.
Combine the flour, baking soda, and salt and set aside.
Cream the butter and sugars.
Add the egg, oil, and vanilla and mix well.
Add the flour mixture and mix well.
Add the cornflakes and oatmeal and mix.
Stir in the chocolate chips.
Bake at 350 for approx. 12 -14 minutes, till golden.
This recipe makes about 5 or 6 dozen absolutely delicious cookies.
Enjoy!